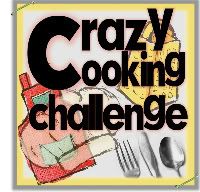 I'll admit, part of me didn't want to do with challenge, because I already have a
spaghetti sauce recipe
I like, and I'm not much of a red sauce person. I'm all about the creamy stuff. That said, I did find a recipe to suit my fancy; probably because it was similar to the recipe I use! (when I don't just grab a jar. . .when I can get them for $1, it makes my life easier!)
Anyway, I was pleased to find such a great recipe at a blog I love to read:
Once A Month Mom
. I love finding recipes I can freeze! I've even been lucky enough to have some of my recipes included in her monthly meal plans (
pumpkin ravioli casserole
in
Oct 2009
, and my
baked rigatoni
in
Dec 2009
). I did alter the recipe to include some peppers, and omitted the ground meat, since Captain Jax doesn't dig ground meat.
And then I found another recipe over at Plain Chicken for
baked spaghetti
and I decided to combine them. It was awesome!
SPAGHETTI SAUCE
Posted at:
http://recipesofacheapskate.blogspot.com
From:
Once a Month Mom
1/2 cup Onion, chopped

1-2 bell peppers, chopped

29 ounces tomatoes, diced

14.5 ounces tomato sauce

12 ounces tomato paste

2 Tablespoons dried basil

5 cloves minced garlic

2 Tablespoons dried oregano

5 Tablespoons dried parsley

10 ounces canned mushrooms

Optional: 2lbs ground meat--sausage and beef are what the original recipe recommends
In a large pot, cook the onion and peppers (and ground meat, if using) over medium heat. Add the remaining ingredients and bring to a boil. Reduce heat to a simmer and cook for at least one hour.
BAKED SPAGHETTI
Posted at:
http://recipesofacheapskate.blogspot.com
From:
Plain Chicken
1 8oz package cream cheese, softened

12oz spaghetti noodles

italian seasoning: parsley, basil, oregano, garlic

Spaghetti sauce from above recipe
parmesan cheese for topping
Bake spaghetti according to package directions, drain and place cooked noodles in a bowl with softened cream cheese and italian seasoning. Stir until cream cheese is completely melted and the noodles are all coated. Cover the bottom of a 9x13 pan with some sauce; approx 1 cup. Add the spaghetti noodles, and then cover with more sauce; approx 2 cups, or however much more you want. Sprinkle with parmesan cheese, and bake at 350degs for about 30 minutes, until bubbly.
This dish CAN be made ahead of time, and left in the fridge until ready to cook.