Are you ready for this one? I am SO EXCITED for the Crazy Cook's Challenge today. You have no idea. I love cheesecake so much. And there are going to be LOTS of cheesecake recipes linked up today.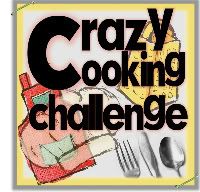 However, as much as I love cheesecake, I don't make it much myself. Why? Because the best recipes seem to involve a spring-form pan, and adding a dish of water in the oven as well. I'm not much of a baker, which is why you don't see many baked goods on this here blog. And I don't own a spring-form pan. So I just plain don't make them.
So when I started my search for
The Cheesecake
recipe I was going to make, I wanted something unique. And these were perfect! Baked in a mini muffin tin, they were just the right size for snacking. Or stealing a few for breakfast.
The only problem I faced was when they finished baking, they were supposed to cool in the pan completely, and I was only 1/2 way done! I'll say it again, just like every other post. It's summer time. I HATE having my oven on in the summer. So while these cooled, I threw the rest of the mixture into a pie plate and it was perfect.
SNICKERS CHEESECAKE BITES
Posted at:
http://recipesofacheapskate.blogspot.com
Originally from:
The Capitol Baker
2 3/4 cup graham cracker crumbs
8 Tbsp butter, melted
3 Tbsp sugar
2 cups chopped snickers bars
2 pkgs (16oz total) cream cheese, at room temp
1 cup sugar
2 eggs
1 Tbsp vanilla extract
3 Tbsp caramel sauce
Preheat the oven 350degs. Mix together the cracker crumbs, butter, and 3 Tbsp sugar. Press a spoon-full into each muffin cup, and bake for about 5 minutes in the oven. While the crust is baking, prepare the filling by creaming together the cream cheese, and sugar. Add the eggs, and extract and mix well, scraping the sides occasionally. Add the caramel sauce. Spoon about 1-2 Tbsp worth of batter into each muffin cup, then top evenly with snickers pieces. Bake for about 20-25 minutes until just starting to brown on the edges and the center is set. Let cool completely, then remove from pan and refrigerate. The rest of the cheesecake mixture can then be made into another pan of mini-muffins or a small pie pan.